The late Mr. Avery W. Hall founded the Avery W. Hall Insurance Agency, Inc., known as P&C, an insurance brokerage firm in 1925. Since then, the agency has grown to over 100 team members, four locations and offers multiple product lines that cover personal and commercial insurance as well as benefit solutions.
Mr. Hall understood the importance of providing quality service to his communi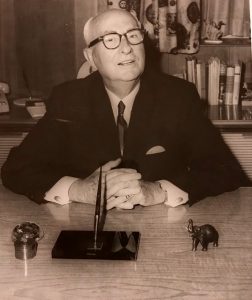 ty, both in the insurance industry and beyond. His journey from a poor boy born on a small farm to a successful businessman and philanthropist is nothing short of remarkable. During his life, he served his community as a Red Cross Volunteer, as a member of the chair of the Wicomico County Welfare Board, as a member of the Wicomico Children's Home board, and as an overseer to the construction of the Wicomico Youth and Civic Center. His humble attitude and incredible work ethic formed the foundation of his company and still serves as an inspiration to his employees. His motto was to treat people right, not just the first time you meet them but every time. What started as a small business conducted out of his home quickly grew, and after over 95 years of business, that philosophy still drives the success of our employee-owned company today.
In 1981, at the age of 82, Mr. Hall retired, leaving the company in the hands of six trusted "producers." The agency has flourished and grown over the last 30 years by the acquisition or ownership in stock of the following: Henderson Insurance, Chesapeake Insurance, Seidel Insurance, Farnell & Gast, LLC, Brittingham & Williams, LLC, RFJL Insurance, HKT Insurance, Gordy Insurance, and Hall-Richardson Insurance. Avery Hall also expanded to include Avery Hall Benefits Solutions in Salisbury and Easton, which specializes in Life & Health Insurance products including Medicare Supplements, Group Benefits, & Health Insurance.
In addition to fulfilling the area's insurance needs, Avery Hall follows its founder's footsteps by being an advocate for community support and involvement. Employees take part in charity events both as a company group and individually. Some of the non-profits that we proudly support include; United Way of Lower Eastern Shore, Habitat for Humanity Choptank, American Cancer Society's Relay for Life, Junior Achievement of the Eastern Shore, YMCA of the Chesapeake, and Operation We Care.