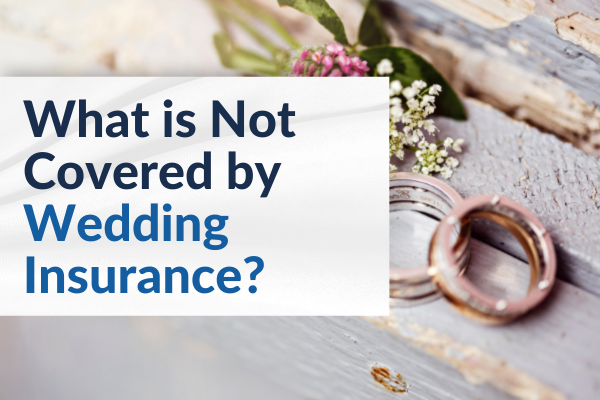 Weddings require countless hours of hard work, planning, and budgeting. The average cost of a wedding in the United States as of 2019 was a whopping $28,000! There's no denying that a wedding is an investment, and like anything you put your money into, a wedding needs the proper insurance coverage.
Special event and wedding insurance policies can cover tons of stressful problems, like stolen gifts, liability, and vendor issues. But even with all the coverage your event insurance may offer, there are still some things that your policy may not cover.
Here are a few common situations that are often not covered in a wedding insurance policy:
1.Cold feet or a change of heart
Unfortunately, if one or more of a couple decide not to go through with their nuptials after deposits have already been paid out, wedding insurance can't offer any reimbursement.
2.A rainy day
Although many policies cover extreme weather and natural disasters, an average downpour most likely won't be covered by your wedding insurance policy. If you have your mind set on an outdoor wedding, make sure you have a Plan B! An indoor venue options or tent set-up can save your big day.
3.Changing vendors after a deposit is made
If you have made a deposit on a vendor and then decided to go with someone else, your wedding policy will not provide coverage. However if your vendor fails to provide services stipulated in their contract, your policy may offer you some financial relief.
4.Cancellations due to COVID-19
You should check with your insurance agent to see if your wedding insurance policy covers COVID-19, as many carriers do not offer coverage for cancellations due to the pandemic.
Note that if you plan to have high-risk activities or attractions at your celebration, like fireworks, bounce houses, or live animals, you may be denied a wedding insurance policy altogether.
Talk to your Avery Hall agent today to see which wedding insurance policy is right for you and your big day. Give us a call at 410-742-5111, or request a quote right on our website!