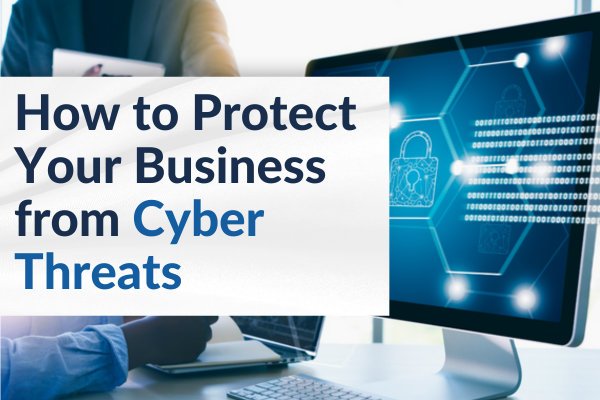 Every successful small business venture depends on the security of its information and that of its employees and customers. But as technology becomes more sophisticated, so does criminal methodology.
With opportunities for remote work becoming increasingly commonplace following COVID-19, cybersecurity threats have continued to snowball over recent years. As small businesses transfer more and more critical documents and records online, business owners should take additional steps to protect their organization's most valuable digital assets.
Why Should I Secure My Devices & Networks?
Offering a mobile device or laptop for employees, as well as a company Wi-Fi network, can be effective measures for a productive workplace – but can also serve as vulnerabilities in cybersecurity. Check out this blog for ways to measure how cyber secure your business is. 
Ensure all company devices are maintained with the latest software and operating system updates to provide the highest-level security for use. All technology should be updated, including desktop computers, tablets, and smartphones. Additional firewall or antivirus software can help boost those devices' cybersecurity and create secure backup file storage locations for copies of crucial documents in a separate area in an emergency.
While there is a risk of potential cyber threats through your devices' software, protecting the physical storage locations of your company laptops, tablets, and other devices is another necessary component of cybersecurity. Create business-wide policies for safeguarding your devices in safe lockers or storage spaces when not in use to avoid items being lost or accessed by individuals outside the company.
How To Train Your Employees for Cyber Security
Education is key to cybersecurity. Implementing training procedures as another section of new employees' onboarding can prevent common cybersecurity mistakes, such as identifying and avoiding phishing emails and using secure or encrypted Wi-Fi networks when online. Periodic training for current employees will also refresh and strengthen the online security practices throughout the organization.
Installing multi-factor authentication measures for company logins and frequently recurring password changes can serve as additional steps to protecting company accounts and databases. By training employees to create unique and variable passwords for separate accounts within the workplace, both individual and company-wide cybersecurity will see tremendous benefits.
Why Do You Need Cyber Liability Insurance? 
In the event you experience a cybersecurity attack or a compromise in an online network, a small business' entire operation could be threatened. Through cybersecurity insurance coverage, your business's digital assets are afforded the protection deserving of their value. Whether your network suffers electronic data damage or your business incurs a loss of income following an attack, cyber liability insurance can range to protect against the various consequences of a potential breach.
Let's Talk!
Avery Hall Insurance advisors can connect you to a comprehensive and affordable cyber liability insurance packages tailored to your business's online infrastructure.
Call or text 410-742-5111 to begin a personalized assessment of your small business' cyber liability insurance needs with an Avery Hall Insurance team member. Or, request a free quote here.