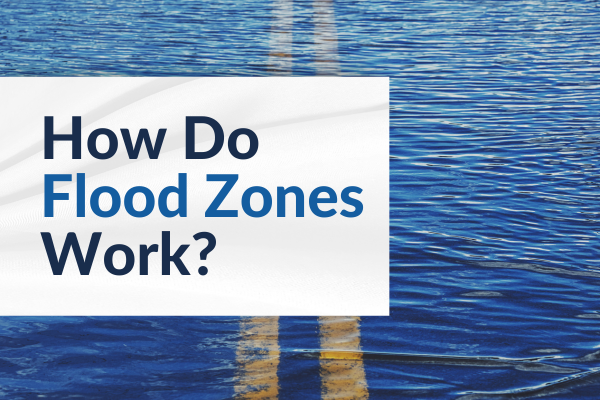 Flood maps, known officially as Flood Insurance Rate Maps (FIRMs), show high-flood risk, moderate-flood risk, and low-flood risk areas. Communities use the maps to set minimum building requirements for coastal areas and floodplains; lenders use them to determine flood insurance requirements. The Flood Insurance Rate Maps (FIRMs) help determine what you should pay for flood insurance and are available to the public free of charge.
In Special Flood Hazard areas:
On FIRMs, these areas are denoted as zones that begin with the letters 'A' or 'V'.
All home and business owners in these areas with federally regulated or insured lenders must buy flood insurance. These high-risk areas have a 1 in 4 chance of flooding during a 30-year mortgage period.
In Non-Special Flood Hazard areas:  
The areas with moderate-to-low-risk areas on flood maps as zones beginning with the letters 'B', 'C', or 'X'.
The risk of flooding is lower, but not completely removed.
These moderate flood hazard areas are usually between the limits of the 100-year and 500-year floods. Zones are also used to designate base floodplains of lesser hazards, such as areas protected by levees from 100‐year flood, or shallow flooding areas with average depths of less than one foot or drainage areas less than 1 square mile. Flood insurance is not federally required in these areas but recommended. These areas submit more than 20% of National Flood Insurance Program claims. They also receive a third of federal disaster assistance for flooding.  Living in an area with low or moderate flood risk makes you five times more likely to experience a flood than a fire in your home over the next 30 years.
Undetermined flood hazards or unstudied areas:
These areas are shown on FIRMs beginning with the letter 'D' and are typically not shaded. These areas have possible but undetermined flood hazards.
Flood insurance rates reflect the uncertainty of risk in these areas.
Whether in a high-risk zone or not, you may need flood insurance because most homeowner's insurance does NOT cover flood damage. Natural disasters, like floods, are inevitable. With the help of flood insurance, we can ensure your investments are protected from the inevitable. Even if you don't live in an area prone to flooding, you should consider implementing a flood policy. Your home or business must be in a community that has joined the NFIP to ensure it qualifies for flood insurance, meaning your community has agreed to enforce sound floodplain management standards.
Call or text your Avery Hall insurance agent today and protect your assets from flood damage at 410-742-5111.