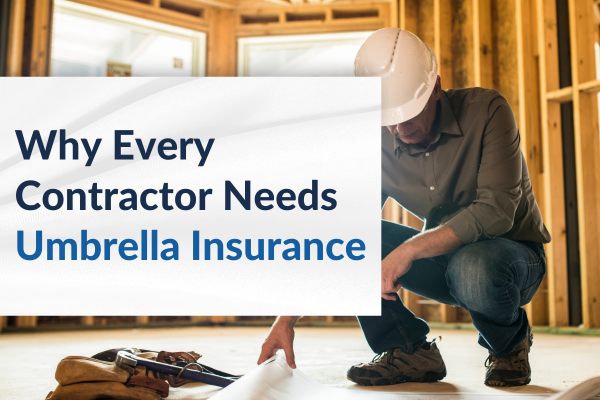 Contracting comes with its own set of inherent risks – from equipment malfunctions to shipping delays, your business is faced with more unexpected obstacles and challenges with every nail. But are your contracting services sturdy enough to withstand a major liability claim? In the event of a serious accident or injury – or an incident of significant property damage – your business may become exposed to insufficient insurance coverage.
While your company may already be reinforced with standard commercial insurance policies, your comprehensive package may not extend to cover a large claim, leaving you left to cover massive outstanding costs directly from your wallet and putting your business at risk. To truly secure your business, there is a solution: commercial umbrella insurance.
Umbrella Insurance vs. Standard Commercial Insurance Policies
Contractors should be familiar with three standard commercial insurance policies: General Liability Insurance, Commercial Auto Liability Insurance, and Employers' Liability Insurance. Though each of these policies serve a unique and fundamental purpose to protecting your business from undue damage, there are still limits to their coverage options.
Each of the three primary insurance coverages generally will be capped at or below a policy limit of $1 million, which for some businesses may serve as sufficient protection, but not for a mid- to large-sized construction company. Even smaller contracting service providers are exposed to a similar level of risk depending on the extent of a potential accident or injury.
If, for example, an on-site injury was to result in a claim of $2 million, that business would be forced to pay the $1 million not covered by standard insurance outright past the policy limit. For some, a seven-digit cost may threaten or wipe out a business' entire operation. Umbrella insurance, meanwhile, would afford the protection of covering that entire outstanding cost not included in the business' other insurance policies. Up to an amount specified by the operator, umbrella insurance provides an added layer of protection against unexpected accidents resulting in major liability claims.
By extending your range of coverage to match the fluid risk of operating a construction company, the risk of catastrophic damage to your business is significantly lowered following a claim using umbrella insurance's distinct advantages.
 What Can Umbrella Insurance Protect Against?
By acting as an extension of your existing liability policies, umbrella insurance covers a wide selection of potential accidents and claims. For contractors, there are a few overarching risks that present the greatest threat to your business without commercial umbrella insurance due to their potential for substantial liability claims.
First, umbrella insurance safeguards any potential risk to your assets, from machinery and equipment to land and buildings. Use of the machinery, as well as company vehicles, also pose another risk of serious injury or bodily harm to both employees as well as individuals encountered on the road or on site. Additionally, with delays in supply chains and the constant influx of materials being purchased for large-scale projects, your company may face even more risk if faced with a lawsuit or claim when your level of capital is low.
While commercial umbrella insurance may not cover every type of claim, such as commercial property or professional liability insurance claims in most cases, purchasing a blanket coverage policy can provide more thorough protection and added peace of mind as a contractor.
Finding the Right Amount of Umbrella Insurance for Your Business
In such a high-risk industry, contractors must be diligent about selecting the appropriate insurance coverages for their business' needs and operation. With a personalized policy amount, umbrella insurance policies are truly tailored to the unique aspects of your business. When exploring potential commercial umbrella insurance policies, the best approach is to work alongside an experienced insurance professional to determine the current risks faced by your company and the necessary steps to strengthening your protection.
At Avery Hall Insurance, our agents can perform a comprehensive review of your contracting business' active commercial insurance policies to find the umbrella insurance coverage that best fits your needs. Contact an agent today at 410-742-5111 (Salisbury) to begin protecting your business from the hazards of being underinsured in a high-risk environment.