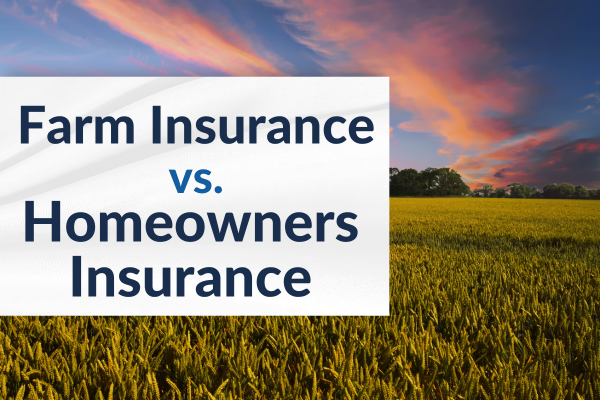 What is Farm Insurance? 
Farm insurance can help protect a farm operation from losses caused by covered risks, like natural disasters and theft. It can also protect the farmer in the case of employee injury with proper endorsements, damage to someone else's property, and more.
What is Homeowners Insurance? 
Homeowners insurance is a necessity for anyone who owns a home and can help cover damages to a home from a storm, or fire, as well as the furniture, electronics, and other possessions kept within the home.
Farm Insurance vs. Homeowners Insurance
While homeowners insurance may cover the home, possessions, and personal liability of the policyholder, farm insurance is a broader layer of coverage that may cover the farmer's house and essential elements of their farm or ranch.
What does home insurance cover? 
Home Structure
Possessions within the home
Personal liability coverage
Outbuildings & structures (limited)
What does farm insurance cover? 
Home Structure
Possessions within home
Personal liability coverage
Outbuildings & structures
Farm machinery & equipment
Livestock
& more
Does a farmer need homeowners' insurance? 
No matter what, farmers need coverage for their homes just like everybody else. But will the house go on the farm policy, or will it have a separate homeowners policy? This can depend on a few factors, such as if the home is located at the same premises as the farm, how the property is deeded, and if underwriting will agree to add the home to the farm policy.
Farmers are eligible for homeowners insurance and often obtain both a farm policy and a home policy, in order to have a wide range of protection from accidents that could affect their home and their farm. The best way to know what is suitable for you and your farm and home is by talking to an experienced insurance agent about your specific needs and the requirements for your industry and state.
Let's Talk. 
Running a farm of any size is challenging—let your insurance take a weight off of your shoulders, not add complications. An insurance policy is not designed to provide coverage for every loss one might experience however we can help you identify those items that might be self-insured.
Talk to an experienced Avery Hall agent about your farm insurance today at 410-742-5111 (Salisbury) or 302-684-3413 (Milton.) Or, text FARM to 410-742-511 to contact one of our agents for quick, reliable insurance advice at your fingertips.