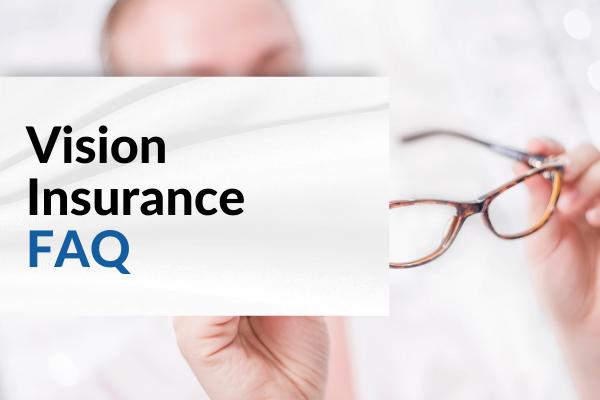 Getting a comprehensive eye exam, prescriptions, new lenses, and frames could mean a hefty price sticker. Health Insurance policies typically cover eye care only if you have a medical issue. You may lower the costs by signing up for a Vision Insurance Plan. Vision insurance plans are either add-ons (optional riders) to your primary health insurance plan or an ancillary plan (stand-alone) that provides benefits unavailable through most health plans, like vision and dental insurance.
How your insurance coverage works depends on the kind of insurance it is classified as. Listed below are some common types of vision insurance plans.
Point of Service (POS) Plan
This plan lets you pay less if you use hospitals, doctors, and other healthcare providers in the plan's network. You must get a referral from your primary care doctor to see a specialist.
Indemnity Insurance Plan
This plan lets you choose a provider without any effect on reimbursement. Your insurance carrier pays for some or all of your vision care.
What is included in vision insurance?
Standard Vision insurance usually includes the following services and products:
Annual eye examinations
Contact lenses
Eyeglass frames
Eyeglass lenses
LASIK and PRK vision correction at discounted rates
What will my medical insurance cover versus my vision insurance?
Regarding your eyes, services will be covered under insurance in two ways. If you have something medically wrong with your eyes, such as glaucoma, or cataracts, the exam and services rendered after diagnosis would be covered under your Medical Insurance. If you need to determine what strength lenses you need to help you see, and require contacts or lenses, that would be covered under vision insurance.
I don't need glasses. Do I still need eye exams?
Understanding that there are two parts to every comprehensive eye examination may help you better know your Medical/ Vision insurance. Many people perceive that because they do not wear glasses or contacts, their eyes are healthy, and they do not need to be seen for eye examinations.  Regular eye health examinations are critical to prevent vision-degrading eye disease, which can be detected at the Optometrist office.  Because many eye diseases that affect your vision will have little or no symptoms until the problem has become severe and vision-threatening, all eye exams have a medical portion performed. The second portion of an eye examination is considered "routine" in nature. It is meant to examine and prescribe, if necessary, eyewear or contact lenses to correct your vision.
What are the payment options for Vision Plans?
If your employer makes group vision insurance available, you pay for it through payroll deductions or flexible spending accounts. A flexible spending account, also sometimes called a cafeteria plan, allows an employee to use pre-tax dollars to purchase selected health benefits such as vision insurance. Some employers offer a health savings account which is an additional way to pay for your vision needs.  This plan saves you money because you receive the full benefit of income set aside for health costs, making it not subject to or reduced by taxation.
If you are self-employed or your employer doesn't offer vision insurance, you can expect to be billed monthly or annually by your individual vision plan carrier.
Who can I contact with specific questions about my Dental and Vision Insurance?
Understanding Insurance coverage can be overwhelming and challenging to comprehend fully. Avery Hall Insurance Group is here to help you navigate through these plans and help equip you to make the best decision for you. Contact your local Avery Hall Insurance agent to discuss a best-fit plan for you at 410-742-5111 (Salisbury) or 410-822-7300 (Easton.)