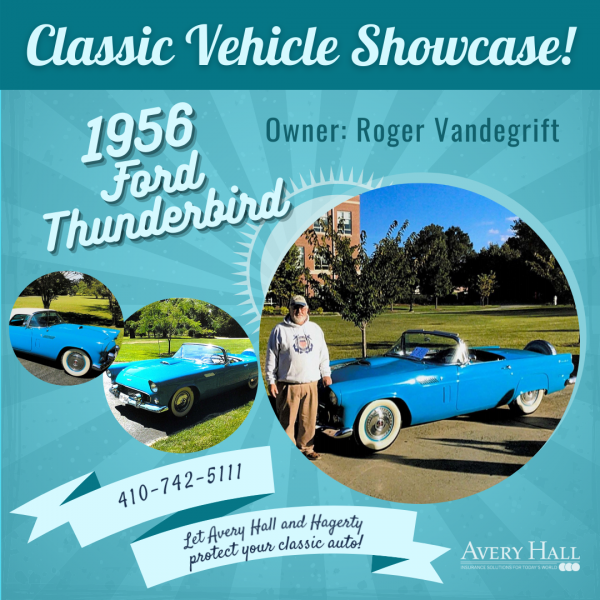 In 1955 the Ford Thunderbird made its first debut, offering the consumer a vehicle built with a 292 cubic inch V8 Mercury engine and the option of having a three-speed Ford-O-Matic transmission or a stick shift. With this new automobile on the market, this gave rise to the start of the "Baby Birds," a total of 11 generations of Thunderbird model variations. In the year of the Thunderbird's release, Ford sold 16,155 Thunderbirds, while selling 15,631 in the following year. The next year Ford added new features and made additional upgrades.
Valued customer of Avery Hall Insurance, Roger Vandegrift, has spent several years with his 1956 Ford Thunderbird, called the "56 Ford t-bird" for short. Ford created the Thunderbird to be a contender with the Chevrolet Corvette, which was new to the automotive industry around this time. Several years ago, Mr. Vandegrift purchased his vehicle and had it shipped to him. Upon its arrival, Mr. Vandegrift noted that this would be a sizeable task to complete due to the body being run-down by Vermont's road conditions from the winter salt. Mr. Vandegrift explains this process, stating: "We did a full "off-frame" restoration, meaning every piece came off the frame, and we started to rebuild from there." The overall process took five years, with Mr. Vandegrift having to replace most parts. Authentic to the 1956 original color, Mr. Vandegrift's painted his Ford Thunderbird in "Peacock Blue" and the top in "Colonial White." We can see Mr. Vandegrift's passion for his beloved 1956 Ford Thunderbird through his dedication and commitment to restoring this classic auto vehicle.
Our valued customers like Mr. Vandegrift make us passionate about what we do! Classic cars such as the 1956 Ford Thunderbird remind us of the importance of highlighting treasured history. Mr. Vandegrift was generous enough to share his story with us and provide the facts mentioned on the history of this classic car.
For your Classic Auto Coverage needs, contact Avery Hall Insurance today at 410-742-5111 to protect your cherished valuables.