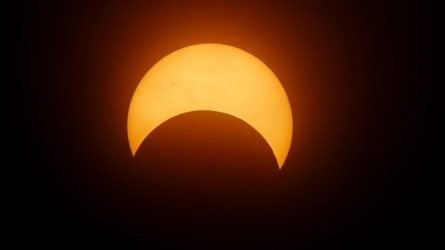 As everyone prepares to watch the August 21, 2017 solar eclipse, please remember to take necessary precautions when taking in this magnificent sight.
To safely watch the solar eclipse without causing any damage to your eyes, you may want to consider using the following:
1. Pinhole Projection – By using a projected image of the eclipse, pinhole projection helps you to avoid looking at the eclipse directly. Click here to read more on how to use a pinhole projection.
2. Welder's Glass – Found at any welder's supply store, the Number 14 glass provides effective protection and reduces harmful rays being emitted during the eclipse. It is advisable to discontinue use of the glass if there are any scratches or other damage to the glass.
3. Mylar Filters – Eclipse vision glasses made with aluminized Mylar plastic sheets can also be cut and made into a viewing box.  But, like the welder's glasses, discontinue use if there are any scratches or damage to the sheet(s).
4. Indoor Viewing Options – Watching the solar eclipse on television or at the planetarium could possibly be the safest way to watch this very rare phenomenon.
With the increased use of technology, it is also important to note that experts warn against watching a solar eclipse through a smartphone or a camera viewfinder. They believe this may also damage the eyes in the same way as it would to look directly at the eclipse. Also, unless a filter is specifically designed for viewing a solar eclipse, no filters are safe to use with any optical device, including telescopes and/or binoculars.  Lastly, do not rely on conventional sunglasses to protect your eyes during an eclipse as they are not designed for this use and will not afford you the proper protection.
If after viewing a solar eclipse you notice changes in vision or experience eye pain that continues to worsen, seek immediate treatment from an eye care professional. For more information on eye safety during a total solar eclipse, click here.