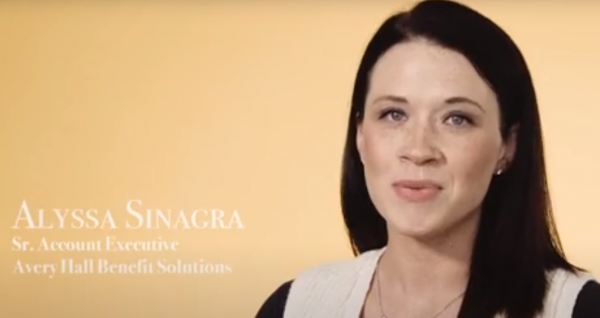 Avery Hall has always prided itself in providing superior customer service; however, excellent customer service is about more than just timely responses and always wearing a smile. What truly makes Avery Hall's service unique is the genuine care and passion for helping others that all of our team members possess.
Shopping for Medicare plans can be one of the most overwhelming and slightly insensitive experiences one may go through. Bruce and Connie were wading deep in the flood of Medicare advertisements until Alyssa Sinagra came to their rescue.
"Approaching the age of qualifying for Medicare, we were inundated with mailings from a multitude of companies, a seemingly endless stream of TV commercials advertising one plan over another, and web page after web page of Internet research in our attempt to "decode" the best option for our future coverage. Navigating this maze of data grew overwhelming and confusing. As our decision time drew near, we had compiled a file folder inches-thick of information and still had no clear understanding of what plan options were best fitted to our needs.
Buried within our pile of correspondence was a single letter of introduction from Alyssa Sinagra of Avery Hall Insurance. We kept her letter because it gave us an instant impression that she could "demystify" the entire Medicare process, without charge, and better educate us. We contacted Alyssa, provided some basic information, and arranged a meeting in our home shortly thereafter. This simple act was the best decision we could make! Alyssa came prepared with an array of data, presented and personally explained in a manner that clarified the entire process. Upon further interaction, Alyssa 'fine-tuned' her recommendations amongst the plethora of options available. The entire process was informative, friendly, and professional with literally no pressure. We enrolled immediately afterward and have not regretted our decision since.
Whether you are just starting the process of enrolling in Medicare or desire to revisit coverage options available to you, we highly recommend that you contact Alyssa Sinagra of Avery Hall Insurance. As an Insurance Broker specializing in Medicare coverage, her services are free. She possesses the rare combination of industry expertise and professionalism, mixed with a warm & sincere personality. Each year, we contact her to ensure we have the proper coverage. Alyssa and her staff at Avery Hall are responsive to each call, providing diligent follow-up to any of our questions. Give her a call; it's one you will not regret!"
 -Bruce & Connie (Heritage Shores residents since 2015)
Bruce and Connie are just two of the many clients Alyssa and her fellow team members at Avery Hall have helped. If you are attempting to navigate your way through the overwhelming amount of Medicare data being thrown your way, take the leap and begin your personalized experience with an Avery Hall agent. Start by requesting a free online quote or by contacting Alyssa Sinagra at 410-742-5111 or asinagra@averyhall.com.