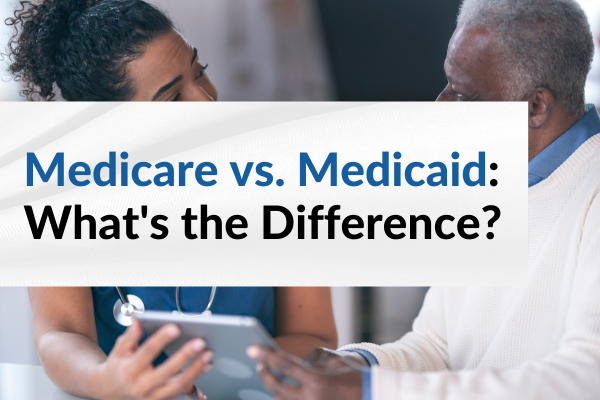 Have you ever wondered what the difference is between Medicare and Medicaid? Medicare and Medicaid are both U.S. government-sponsored programs. They were established in 1965 under President Lyndon Johnson. Despite the similar names, they serve different groups of people and are operated by separate parts of the government.
What is Medicare?
Medicare is a federally sponsored individual health plan providing coverage for medically necessary procedures and services. This coverage requires copays, coinsurance, and deductibles that are the responsibility of the beneficiary. These are standard costs and coverage, meaning it is the same cost and coverage regardless of what state you live in.
Who is eligible for Medicare?
Anyone age 65 or older who has participated in Social Security, Railroad Retirement System or employee of Federal, State, or Local governments or whose spouse has participated. Individuals under age 65 have been awarded Social Security or Railroad Retirement disability after 24 months. Those disabled with ALS (Lou Gehrig's disease or individuals with End Stage Renal Disease (ESRD).
What are the different parts of Medicare?
These are four parts of Medicare that help cover certain services:
Part A (Hospital Insurance) covers inpatient care, skilled nursing care, hospice, home health care, and blood.
Part B (Medical Insurance) covers 80% of outpatient services once the annual deductible has been met. These outpatient services include physician services, outpatient surgery, home health care, labs, and x-rays. This is not a Medigap or Medicare supplement plan.
Part C (Medicare Advantage Plans) is a Medicare-approved plan from a private company that offers an alternative to Original Medicare for your health and some drug coverage, but beneficiaries are still required to pay their Medicare premium. These may be like a PPO or HMO plan, and they can vary from county to county.
Part D (Drug Coverage) covers the cost of most prescription drugs.
What is Medicaid?
Medicaid is a joint federal and state program that provides health coverage to low-income adults, children, pregnant women, elderly adults, and people with disabilities.
Who is eligible for Medicaid?
The Affordable Care Act of 2010 allowed states to expand Medicaid to cover nearly all low-income Americans under 65 years old. Medicaid does not have the 65 years and older requirement like Medicare. In some states, pregnant women qualify if they meet the income requirements. States administer Medicaid according to federal requirements. This means eligibility requirements and benefits vary state by state.
Children's Health Insurance Program (CHIP)
Children's Health Insurance Program provides health coverage to children in families that earn too much money to qualify for Medicaid but not enough to afford private coverage. CHIP and Medicaid offer care to those who may not qualify for Medicare.
To learn more about Medicare and Medicaid, call our experienced Avery Hall Benefits Solutions Team at 410-742-5111 (Salisbury) or 410-822-7300 (Easton). Our team is here to help you make informed decisions for your specific needs.