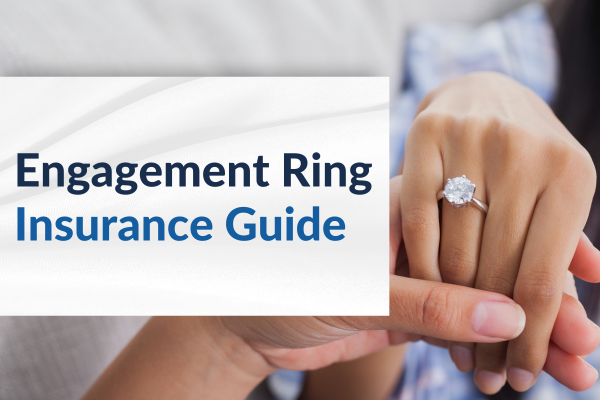 When receiving a beautiful piece of jewelry or an engagement ring, the last thing you want to do is worry about insurance. Use this article to learn the basics of insurance for engagement rings and other jewelry pieces.
What can jewelry insurance cover: 
Theft
Loss of ring
Unintentional damage from a natural disaster, fire, etc.
Losses obtained outside of the U.S.
What might jewelry insurance not cover: 
Manufacturing defects (the jewelry's warranty usually covers this)
Normal wear and tear
Intentional loss or damage
Does home insurance cover jewelry? 
While most home insurance policies cover jewelry, many people with particularly expensive or sentimental jewelry pieces purchase a separate policy for their collection or item. This is because a home or renters insurance policy may have limitations on coverage that a standalone jewelry policy wouldn't, including:
Restrictions on what jewelry companies can issue a replacement
Coverage value limits, which may result in a more significant out-of-pocket cost for the insured
Limitations in what is covered
Coverage is limited to damages that occur within the United States
Questions to ask your agent about your coverage: 
If you lose your ring, how will you need to prove the loss in a claim?
What is not covered by this policy?
Will the policy adjust with inflation?
If you're insured for a replacement instead of the cash value of the ring, are there limited places where you can get your replacement?
Tips for shopping for jewelry insurance: 
Don't Wait: The sooner you have coverage, the less time your jewelry goes unprotected. Shopping for coverage can also take time, so starting the process soon after purchasing the piece is a great way to get protection as quickly as possible.
Get an Appraisal: To find the right coverage for your jewelry or engagement ring, you need to know what it's worth. Choose a credible appraiser who will give accurate information. It's also essential to get your ring reappraised every few years to ensure your coverage keeps up with its value.
Ask for Help: When it comes to an investment like a nice piece of jewelry or an engagement ring, it's best to have the guidance of a professional. A licensed insurance agent can help you every step of the way! Contact one of our experienced agents today for jewelry insurance for your engagement ring at 410-742-5111, or visit our office in Salisbury, Maryland.