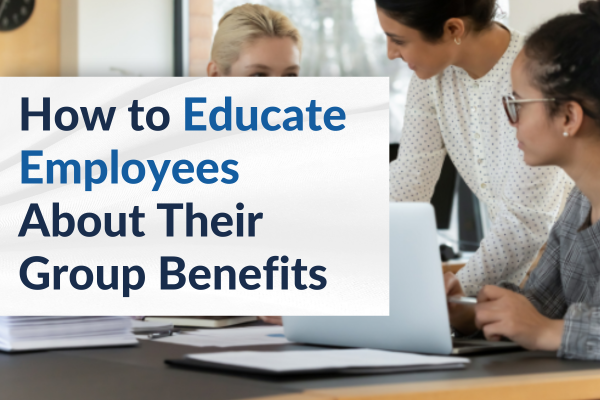 Offering a group health plan to employees is a highly effective way for businesses to boost their team's morale, attract high-quality new hires, and retain hard-working employees. However, a company can't fully experience the positive outcomes of providing employer-sponsored coverage if its employees don't understand their benefits. That's why both large businesses and small businesses need to take the time to educate their employees about their group health benefits.
Here are a few simple ways to get started:
Start early – make a thorough discussion on employee benefits part of the onboarding process for new hires.
It's essential to ensure that new employees are properly briefed on their employee benefits from the start—what is covered, who is covered, and when their coverage starts. Taking the time to carefully walk-through benefits with a new employee early on can keep them from misunderstanding what they do and do not have covered through the company.
Provide new employees with paperwork outlining their benefits plan. This way, they have something to refer to when they have questions in the future.
You can also incorporate your employer-sponsored coverage into hiring advertising and marketing. Offering group health coverage can attract qualified, quality professionals to your company and is a significant marketing point for your business.
Be Open – Let employees know they can ask questions about their benefits package.
Let your team know that if they have questions about their group health plan, they can ask! Have a Human Resources representative who communicates their willingness to talk about employee benefits with employees.
If you are a small business without an HR department, contact an Avery Hall agent. Our insurance professionals are here to help your employees understand their benefits.
Consider having a place where employees can ask questions about their coverage anonymously, then share answers with the entire team. Many people may have the same questions but are afraid to ask.
Stay Consistent – Remind and educate employees about their benefits throughout the year, especially at enrollment time.
In-house newsletters, the Intranet, and even an old-fashioned office bulletin board are great places to share information on employee benefits with your team routinely. Be sure to communicate any changes to the employer-sponsored plan, share reminders about what employees can get coverage for, and provide guidance on how an employee can fully use their benefits.
If you have your group health plan through Avery Hall Benefit Solutions, we offer free personalized educational webinars to educate our business clients' employees on their benefits. Our team of professionals is here to help educate your staff on their group health benefits. Give one of our agents a call today at 410-742-5111 (Salisbury) or 410-822-7300 (Easton.)