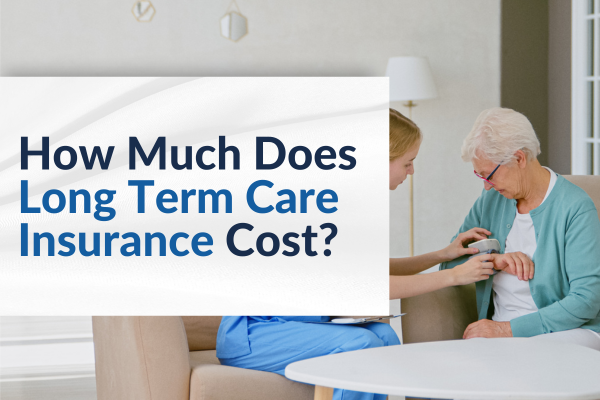 Long-Term Care Insurance Costs
It's difficult to know what the future holds—but it isn't impossible to be prepared! Long Term Care Insurance is just one of the ways you and your family can feel more secure for whatever comes your way.
What Does Long-Term Care Insurance Cover?
LTCI helps protect against costs associated with long-term illness and aging. In-home nurses, nursing homes, and adult care facilities can cost thousands of dollars per month. LTCI can help reduce these costs should you or a loved one need extra care in the future.
What Determines the Cost of Long-Term Care Insurance?
Although Long-Term Care Insurance aims to save the beneficiary a significant amount of money, the insured will need to pay a premium, like with any insurance coverage. The value of that premium is dependent on a few different factors, including:
• Age
• Gender
• Marital Status
• Health Conditions
• Desired Coverages
Age
As you age, you are more likely to develop expensive chronic health conditions, so obtaining coverage when you are young and healthy can cost less. Plus, some carriers will not provide coverage to applicants over a certain age.
Gender
Because the life expectancy of women is longer than men, they usually pay more for Long Term Care Insurance, as the provider would need to provide them coverage for a more significant amount of time than they would for a male beneficiary.
Marital Status
Couples may be eligible for reduced costs of coverage. If the insurance company can collect two premiums, they may give a discount. In a marriage, a partner may ensure that a beneficiary doesn't use their insurance too quickly, making them seem like less of a risk to insure as an insurance carrier, so they may have to pay a lower premium than a single insured.
Health Conditions
Major health complications can deter insurance companies from wanting to provide an applicant with coverage. If the applicant isn't rejected, they may be charged more or less according to their overall health rating.
For instance, someone with excellent health may pay less than someone with sub-standard health.
It's important to remember that once you have been issued a policy, your premium rate can not change based on changes in your health. That's why it's best to obtain coverage when you are younger and healthier.
Desired Coverages
The more benefits you add to your policy, the greater your premium will be.
Location
Prices of policies can vary from state to state due to differences in state regulations.
Let's Talk!
If you have questions about Long Term Care Insurance, including inquiries about your eligibility or that of a loved one, please contact one of our experienced insurance agents in Salisbury, MD (410-742-5111) or Easton, MD (410-822-7300.)