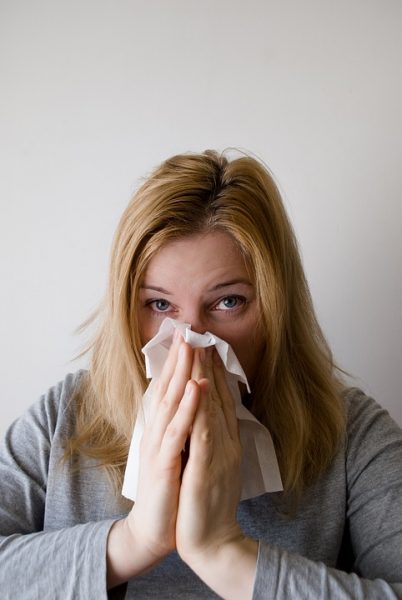 The flu is an infection of the respiratory tract caused by the influenza virus. It usually causes mild to severe illness, but sometimes it can cause fatal complications.
Flu Symptoms
A person who has the flu often feels some or all of these symptoms:
Fever and/or chills
Headache
Fatigue
Cough and/or sore throat
Nasal congestion
Muscle or body aches
Stomach ailments such as nausea, vomiting and diarrhea (more common in children than adults)
How the Flu is Spread
The flu spreads primarily when someone coughs, sneezes or talks, allowing the virus to become airborne and then infect other people. It can also spread if a healthy individual touches a surface that was previously touched by an infected person, and then the healthy individual touches his or her own mouth, eyes or nose. People are typically contagious from the day before symptoms start until seven days after symptoms appear.
The timing of the flu virus is very unpredictable and can vary from season to season. Flu activity most commonly peaks in the United States between December and February; however, seasonal flu activity can begin as early as October and continue as late as May.
If You Get the Flu
If you contract the flu, it is important to take good care of yourself. The Centers for Disease Control and Prevention (CDC) recommends the following:
Stay home from work! It's your best chance for recovery, and you will avoid spreading the disease to others.
Get sufficient sleep.
Drink plenty of fluids.
Take over-the-counter (OTC) medications appropriate for your symptoms.
Most people do not need medical care, but consult your doctor if you are concerned. Also, seek immediate medical attention if you have any of the warning signs discussed on the next page.
Prevention
Serious complications can arise from the flu, including bacterial pneumonia, ear infections, sinus infections, dehydration and worsening of chronic medical conditions. This is why it is crucial to prevent contracting the virus in the first place.
These simple steps should be taken in order to avoid the flu:
Get a yearly flu vaccine. It is the most important step in protecting against the virus
Take preventive actions. Cover your mouth when you sneeze or cough. Try to avoid close contact with sick people and avoid touching your eyes, nose and mouth. Wash your hands often or use alcohol-based hand sanitizer.
Take antiviral drugs if your doctor recommends them. These are prescription drugs that fight the flu by keeping the viruses from reproducing in your body.
Maintain a healthy immune system by eating healthy food, exercising, getting adequate sleep, controlling your stress level and avoiding smoking.