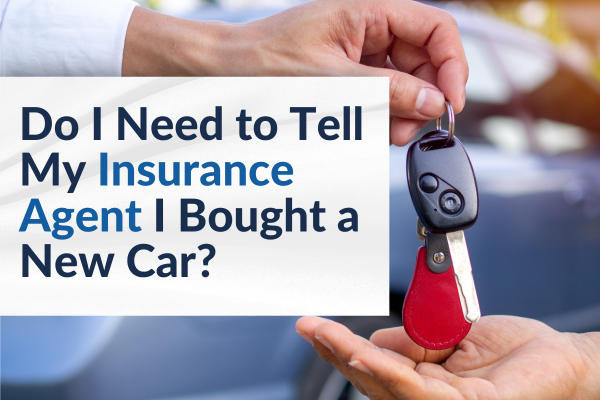 Buying a new car is an exciting event in a person's life. You've researched, test-driven, and you're finally ready to sign the documents and drive your new vehicle off the lot. Once the buying process is through, you should be ready to hit the road, right?
But there's one more person you need to call when you have purchased a new car—your insurance agent! One quick call to your agent can save you a financial headache later.
Will the car dealership contact my insurance about my new car purchase? 
Unfortunately, you cannot rely on a car dealership to contact your insurance agency and let them know about your new vehicle. Contacting your insurance agency yourself will ensure that your car is added to your policy and your new ID card is issued before you experience a claim.
How will my auto insurance change after purchasing a new vehicle? 
Adding your new vehicle to your policy may be one of many changes your agent needs to make after a purchase of a new car. If you have traded in your previous vehicle, your agent can remove that vehicle from your policy. Your agent can review who will be driving the new car and if any drivers need to be added to the policy. They can also check your coverage limits and ensure that you have the right policy for you and your new vehicle.
Your agent can also verify that you are getting any discounts available on your auto insurance. If you have maintained a good driving record, are eligible to bundle your home and auto insurance, or have an improved credit score, there may be ways you can save on your auto insurance.
Are you thinking of buying a new vehicle? Contact your Avery Hall agent! 
Your car salesperson may be great at helping you pick out your new ride—but they can't do everything!
If you are thinking of buying a new vehicle, or if you have purchased a new vehicle recently, give your insurance agent a call. Our Avery Hall agents are here as a resource for any significant financial decisions in your life and will be glad to walk you through the insurance side of the vehicle purchasing process.
Contact an Avery Hall agent today at 410-742-5111 (Salisbury), 302-684-3413 (Milton), or 302-536-9470 (Seaford.) You can also text AUTO to 410-742-5111 for quick, reliable advice from a real agent right on your phone.