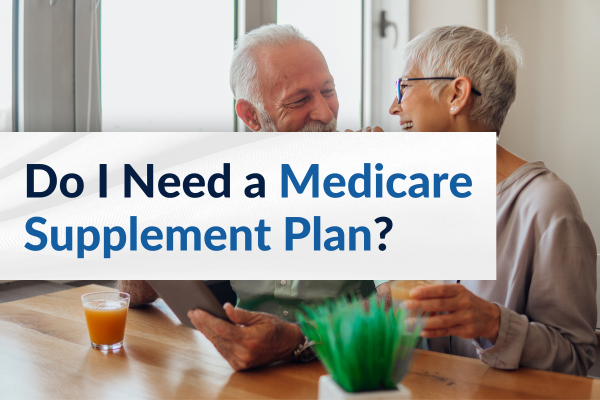 As you prepare for the next chapter of your journey, having a flexible and dependable health plan with the benefits you need is more critical than ever. If you do not want to be surprised with any unpleasant medical bills, then a Medicare supplement plan may be best for you.
Original Medicare may not be enough.
Many may be surprised that Original Medicare (Parts A and B) does not cover everything. Part A is your hospital insurance and this covers 100% of your hospital stay up to 150 consecutive days. Part B will only cover 80% of your outpatient services, you are responsible for the remaining 20%. This is where a Medicare Supplement or Medigap plan will come in and help you. Keep in mind that Part B will not cover routine dental or vision care, hearing aids, long-term care, cosmetic surgery, or medications.
What is Medicare Supplement insurance?
Medicare Supplement insurance, also known as Medigap, covers what Medicare Part A and B does not. Medicare Supplement insurance covers out-of-pocket healthcare costs such as copayments and coinsurance, there are plans that will cover the cost of your annual deductible but you must have been enrolled into Medicare prior to January 1, 2020.
Why should you choose a Medicare Supplement Plan?
A Medicare Supplement plan can reduce your costs by covering what Original Medicare does not. It offers you greater peace of mind when surprised by an undesirable medical expense.
A Medicare Supplement plan may be best for you if:
You want to receive treatment of a Medicare-approved provider that you choose
You want help to pay for costs that Original Medicare does not cover, like copayments and coinsurance
You are traveling out of state for treatment or care.
Let's talk!
Make sure you are covered from future out-of-pocket costs. Contact an Avery Hall Benefit Solutions agent today at 410-742-5111 (Salisbury) or 410-822-7300 (Easton) to learn more about Medicare and the plans available to you!