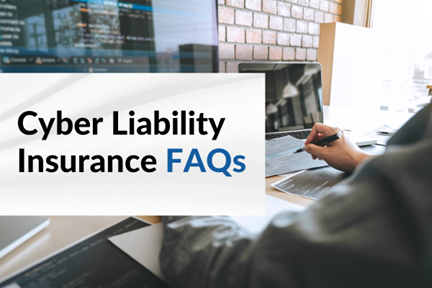 Cyber-attacks will cost companies worldwide an estimated 10.5 trillion dollars annually by 2025, up from $3 trillion in 2015. Cyber-attacks happen to all businesses, but particularly to small and medium sized businesses, which are becoming more frequent, targeted, and complex. This is where cyber liability Insurance comes in to help. Here are some frequently asked questions about cyber liability insurance:
What is cyber liability insurance?
Cyber liability insurance is designed to protect your business from financial loss in the event of a cyber incident. Cyber Incidents can include malware, ransomware, and phishing.
What's the difference between first-party and third-party cyber liability insurance?
First Party Coverage: Covers cyber attacks or data breaches within your own network. It can cover the cost of paying ransoms, investigating breaches and notifying customers.
Third Party Coverage: Covers costs related to lawsuits and other liabilities that are related to security failures that were made possible by your business.
What data is covered by cyber liability insurance?
Cyber liability insurance can cover:
Personal health information (PHI)
Personally identifiable information (PII)
Payment card information (PCI)
Confidential third party information
Data storage or outsourced electronic processing
Do small businesses need this coverage?
Unfortunately, no business is safe from the threat of a cyber-attack. Small and medium businesses account for nearly 43% of all cyber-attacks. Last year alone, small businesses encountered a 424% increase in new cyber breaches. This is because small businesses typically have less security than larger ones, making them easy targets for malicious hackers.
Let's Talk
Protect what you have worked so hard for. Contact one of our experienced Avery Hall agents today at 410-742-5111 to let them walk you through our cyber liability options.