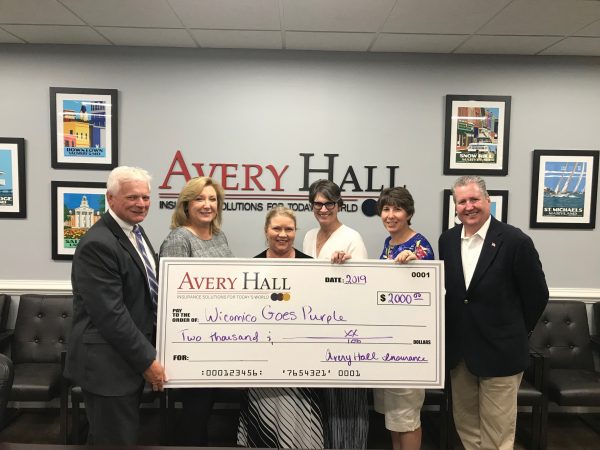 Avery Hall Insurance Group is honored to announce their recent sponsorship of Wicomico Goes Purple.
The national opioid crisis is a steadily growing epidemic. It impacts more lives than many imagine, including ones some would never expect. It took 35 lives from overdose in Wicomico County in 2017. Avery Hall Insurance Group and Wicomico County know it is time to take a stand against opioids.
Wicomico Goes Purple is a local campaign that strives to encourage the conversation about addiction and substance abuse and misuse. This campaign addresses the current drug and opioid epidemic that is occurring nationwide by promoting the education of substance misuse and abuse dangers, including overdoses. The main focuses of the campaign are prevention, treatment, and recovery resources that are available in our community.
On May 28, 2019, Avery Hall's Kevin Hayes COO, Kathy Bennett VP, Jill Long CFO, Karri Todd Account Executive, Wicomico Goes Purple Chair Stephanie Willey, and Bill Chambers CEO Salisbury Area Chamber of Commerce met as Avery Hall officially became a Gold Sponsor with a donation of $2,000. The sponsorship was made official by the presentation of their check at the Avery Hall Insurance office in Salisbury, Maryland.
To ensure community members of all ages are well equipped to combat this epidemic, Wicomico Goes Purple has appeared at numerous community events and has visited several county public schools. One of the greatest successes of the campaign so far is the increased effort in educating individuals on how to administer and use Narcan to help prevent overdoses.
The opioid epidemic impacts all of us, so join Avery Hall Insurance and Wicomico County and "Go Purple" in September, National Recovery Month, because "awareness starts at home." The Wicomico Goes Purple kickoff event will take place on August 31, 2019, at 6:30 p.m. at the Arthur W. Perdue Stadium.