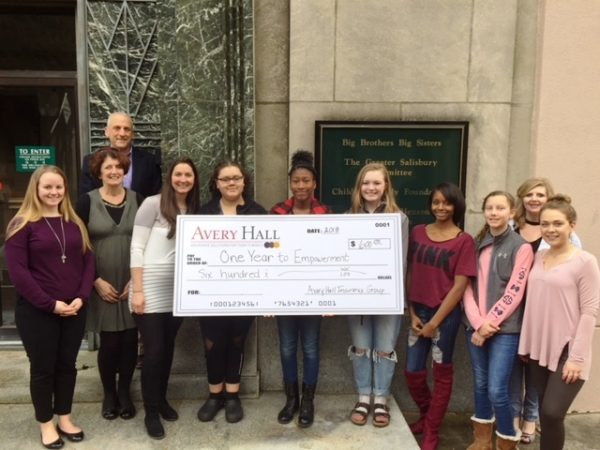 Salisbury, MD- Recently, Avery Hall Insurance Group presented the employees, volunteers, and participants of 1 Year to Empowerment with a $600 sponsorship. This generous donation will sponsor one of the sixteen "Empowerees" who are currently participating in the 2018 program.
Since 2015, 1 Year to Empowerment has impacted the lives of approximately 42 teenage girls from the Lower Eastern Shore of Maryland. In January 2018, 1 Year to Empowerment welcomed 16 new girls from Dorchester, Somerset, Wicomico, and Worcester Counties. This year, the lives of these "Empowerees" will be enriched through various personal development activities.
1 Year to Empowerment Director, Dr. Samantha Scott shared, "This year our girls will grow from many empowerment opportunities. Some of these activities include, an aerial yoga and meditation class, a self-defense workshop, a wheelchair ramp build through Chesapeake Housing Mission, and a college and career exploration day. We are grateful for the Avery Hall Insurance Group sponsorship and their commitment to help empower one of the girls in our program."
"Avery Hall Insurance Group is deeply committed to community involvement and support of local non-profit organizations. 1 Year to Empowerment is a tremendous asset to teenage girls our community by providing them a safe environment to learn and thrive", said Joseph Gast, President, Avery W. Hall Insurance Agency, Inc.
Avery Hall Insurance Group provides individuals, families, organizations and businesses of all sizes throughout Delmarva with insurance solutions for today's world. Avery Hall is headquartered in Salisbury, with offices in Easton, Seaford, Bridgeville, and Milton.