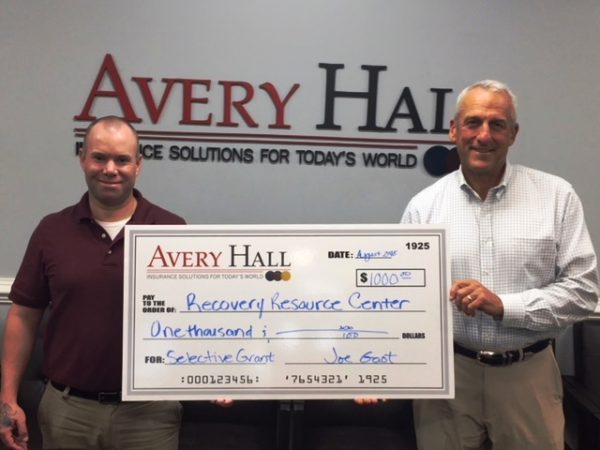 Salisbury, MD 08/16/2018 – Avery Hall Insurance Group and The Selective Insurance Group Foundation joined forces to support the positive efforts of the Recovery Resource Center through a $1000 grant. The Selective Insurance Group Foundation is a philanthropic affiliate of Selective Insurance Group, Inc. (NASDAQ: SIGI).
"Avery Hall Insurance Group is deeply committed to community involvement and support of local non-profit organizations. The Recovery Resource Center is an excellent organization that has facilitated and supported the recovery of thousands of people in Salisbury and the surrounding areas over the last two decades.", said Joseph Gast, President, Avery W. Hall Insurance Agency, Inc.
The grant represents a $500 donation from Avery Hall, matched by a $500 grant from The Selective Insurance Group Foundation. The grant will help the Recovery Resource Center effort to support individuals on their journey of Recovery, by providing handouts and other printed instructional material for classes and educational sessions. In addition, it will cover the costs of providing expendables for participants and members of the public attending events at the Recovery Resource Center.
"At Selective, Response is everything®… and this includes responding to the communities where we live and work to give back and help those in need. Together with Avery Hall Insurance Group, we are proud to support the Recovery Resource Center and its efforts to make a difference in the community," said Chuck Musilli, Senior Vice President, Distribution Strategies, and Selective.
About Avery Hall Insurance Group
Avery Hall Insurance Group includes Avery W. Hall Insurance Agency, Inc, Farnell & Gast, LLC and Avery Hall Benefit Solutions are independent agents and brokers that offer personalized insurance service to individuals, families, organizations, and businesses all across Delmarva.
About Selective
Selective Insurance Group, Inc. is a holding company for ten property and casualty insurance companies rated "A" (Excellent) by A.M. Best. Through independent agents, the insurance companies offer standard and specialty insurance for commercial and personal risks, and flood insurance underwritten by the National Flood Insurance Program. Selective maintains a website at http://www.Selective.com.