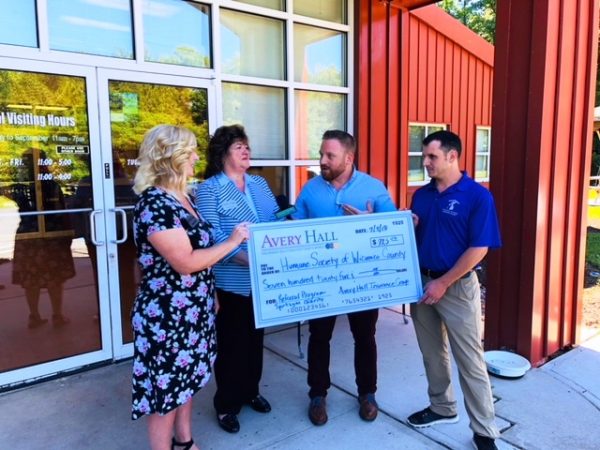 Your referrals mean the world to us, and we work hard to earn each referral with excellent service and a genuine appreciation for your business every day. We also love supporting the charitable efforts in the communities we serve, so we've tied referrals and charitable giving together.
Last quarter our spotlight charity was the Humane Society of Wicomico County. We had 145 referrals for the quarter and just made our donation of $725 to them this week!
We also randomly selected from all of the referrals and client, Donna Ellis, was chosen to designate a non-profit of her choice to receive $250. Donna picked the non-profit, A Buddy for Life as the recipient and we proudly made that donation as well.
Our quarterly Spotlight Charity for the Avery Hall Cares Referral Program from July 1- September 30 is our client, Nanticoke Senior Center (NSC). For every referral we receive from July 1 thru September 30 we will send you a gift card with a minimum value of $5, AND we will donate $5 to the NSC. Located at Hooper's Landing in Seaford, Delaware, NSC is a life enhancement facility serving the seniors of Seaford and surrounding communities. Open Monday through Friday from 7 a.m. to 4 p.m.; the center is a nonprofit organization which offers members opportunities for socialization, relaxation, and learning. Nanticoke Senior Center strives to promote overall health and physical well-being by providing health-related services, nutritional programs, and numerous activities that help members to remain physically active.
Nanticoke Senior Center has proudly served Seaford area seniors for 45 years. The center serves lunch every day at noon and sends out over 54,000 meals every year to homebound seniors. Furthermore, members can utilize the large fitness center and participate in weekly exercise classes. Various other programs are also offered weekly, including bingo, transportation to and from the center, local and out-of-state trips, billiards, cards, holiday celebrations, social gatherings, driving courses, flu shots, free Wi-Fi and much more. Help us help the Nanticoke Senior Center!
Avery Hall Insurance Group has Insurance Solutions for Today's World. Call the location nearest you for a quote today.