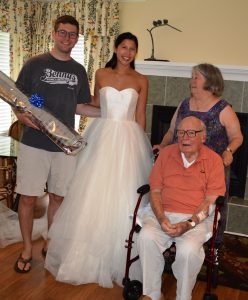 Salisbury, MD (September 30, 2020)
Avery Hall Insurance is proud to announce Talbot Hospice as the Avery Hall Cares Spotlight Non-Profit for October through December 2020. In support of our agency's charitable efforts, we tie our community giving and referral program together.
Talbot Hospice, founded in 1981, is in Easton, MD, and provides services to those in need of Hospice and Palliative Care. Talbot Hospice specializes in care for patients, their families, and members of the community. Core Programs at Talbot Hospice include, Hospice, Palliative Care, Pathways and Bereavement & Grief Support. The staff at Talbot Hospice are ready to serve you, offering compassionate support in addition to their services. Learn more about them at talbothospice.org.
How the Avery Hall Cares Referral Program Works:
Tell your family, friends, and co-workers about Avery Hall Insurance Group.
Have them give us YOUR NAME when they contact one of our offices or go online to request a free quote.
You will automatically receive a gift card ($5 minimum) AND Talbot Hospice will receive $5.
If your name is selected in our quarterly drawing, $250 will be donated to the non-profit of your choice.
Avery Hall Insurance Group serves the insurance needs of individuals, families, and businesses of all sizes throughout Delmarva and the Mid-Shore. Avery Hall is headquartered in Salisbury, with offices in Easton, Seaford, Bridgeville, and Milton.
Visit us on the web at averyhall.com or call the location nearest you to request a quote today.