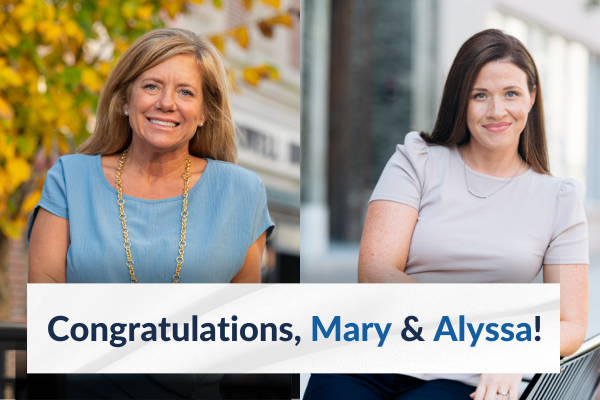 Avery Hall Benefit Solutions (AHBS) announces the promotion of Alyssa Sinagra to Vice President and Mary Mengason to Senior Vice President.
"Alyssa has been instrumental in developing the Individual Market Division, what was once a two-person department has now expanded into a team of ten across the Salisbury and Easton locations," said Cindy Whaley, President of AHBS.
Mrs. Sinagra joined the agency in 2006 as a customer service representative and throughout her years she was promoted to Account Executive and the most recent promotion to Senior Account Executive in 2016.  During her time as an Account Executive, she has received many accolades such as Person of the Year for the Eastern Shore Association of Health Underwriters (ESAHU), the Mutual Sales Leaders award from Mutual of Omaha, Humana's Heavy Hitter award which is awarded to the Top 5 Sales Associates in MD, DE, and VA, and the Best in Class award from Aetna.
Alyssa will serve as a leader of the organization and oversee employee training and day-to-day operations alongside Mary Mengason and Cindy Whaley.
Ms. Mengason joined the agency in 1995 as an Account Executive. In 2005, she was promoted to Vice President and became an owner and partner of the agency in 2007. Throughout her time with the agency, she has received the Person of the Year award from the Eastern Shore Association of Health Underwriters (ESAHU), has served as President and Program Chair for EASHU, and is on the board for the United Way of the Lower Eastern Shore.
"With Mary's 27 years of leadership AHBS has grown to be one of the leading life and health insurance agencies in Maryland. Ms. Mengason also loves giving back to the community. She is the ultimate team player and exemplifies what the word volunteer means," said Cindy Whaley, President of AHBS.
Mary is responsible for the implementation of a new strategic plan for AHBS. She will continue to work with customers, business development, and provide leadership to move the company forward in the ever-changing industry of insurance.
Avery Hall Benefit Solutions serves individuals, families, and businesses of all sizes throughout Delmarva and the Mid-Atlantic. Avery Hall Insurance Group is headquartered in Salisbury, with offices in Easton, Seaford, and Milford.