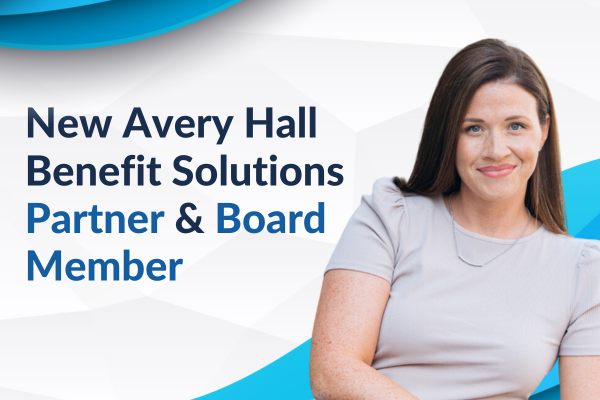 Salisbury, MD June 22, 2023
Avery Hall Benefit Solutions (AHBS) announces the appointment of Alyssa Sinagra, current Vice President as a new Partner and Board Member.
Avery Hall Benefit Solutions announced the appointment of one to the board of directors and a new partner on May 11, 2022.
Alyssa Sinagra current Vice President of AHBS is joining the board of directors and partners to offer new insight into the ever-developing insurance industry regarding rules and regulations and new products to offer.
"She (Alyssa) is the most deserving of this role as she has been with the company since 2006. She has developed our individual department from two to nine employees and has increased the number of clients we service to nearly 5,000 individuals and families," said Mary Mengason, Senior Vice President. "We hope that Alyssa can help us continue to grow our company in ways we've never thought of before and is most deserving of this role."
Alyssa started as a customer service representative and worked to be promoted to an Account Executive and even more recently as Vice President of AHBS. During her time as an Account Executive, she has received many accolades such as Person of the Year for the Eastern Shore Association of Health Underwriters (ESAHU), the Mutual Sales Leaders award from Mutual of Omaha, Humana's Heavy Hitter award, which is awarded to the Top 5 Sales Associates in MD, DE, and VA, and the Best in Class award from Aetna. Most recently, she was named in the top 100 out of 1,100 agents in Maryland for their work assisting individuals with their Maryland Health Connection applications during the 2022 annual open enrollment period.
Alyssa was born and raised on the Eastern Shore of Maryland and Delaware. She enjoys raising her two sons with her husband and traveling to new places.
"I cannot thank Mary and Cindy enough for bestowing me with this amazing opportunity. Our goal is to develop our business practices to where our agency is where the community goes for their health insurance," said Alyssa Sinagra, Vice President. "Also, while we continue to develop our agents to increase our reach in the insurance industry. Every day we learn about new products and techniques, and I am excited to see where the future can take us."
Avery Hall Benefit Solutions serves individuals, families, and businesses of all sizes throughout Delmarva and the Mid-Atlantic. Avery Hall Insurance Group is headquartered in Salisbury, with offices in Easton, Seaford, and Milton.